KURRUNA MWARRE INGKINTJA – GOOD SPIRIT MEN'S PLACE
ALICE SPRINGS MEN'S SHED RESEARCH PROJECT
CASSE partnered with the Central Australian Aboriginal Congress (CAACAC) in Alice Springs to develop and evaluate an Aboriginal model of best practice of Men's sheds in Central Australia to provide support for men to heal from traumatic experiences and support the empowerment of men in their communities in order to create safe and supportive communities for all members. The project promoted emotional wellbeing using a participatory action research or empowerment research program.
A Male Leadership Group was established with men from peak Aboriginal organisations, different language groups and traditional owners and worked with the Male Sub-Committee established by CAACAC which comprised the CAACAC Chair William Tilmouth and Board members Joe Hayes, Chippy Miller and researcher Ricky Hayes.  A preventive and treatment group program was developed, called 'BreakThrough Violence', which uses a mentalisation framework and is being delivered through Ingkintja (Male Health at CAACAC). For more information about this program contact us.
Ken Lechleitner is the Project Officer and Aboriginal Male Research Assistant for the Men's Shed Research Project.
The final report from the research project was released on the 9th of March 2018. The project included qualitative research interviews with 23 male participants living in Alice Springs that illuminated critical aspects of men's experiences. Fourteen of the men agreed to have their interviews on public record and are published in "Talking Powerfully from the Heart – Interviews by Ken Lechleitner", providing a moving adjunct to the research report. 
Media coverage of the report launch: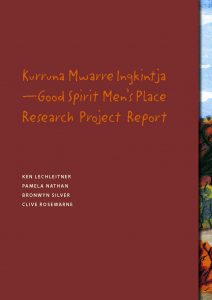 DOWNLOAD: Kurruna Mwarre Ingkintja–Good Spirit Men's Place Research Project Report 
DOWNLOAD: Kurruna Mwarre Ingkintja Transcript – Interviews 'Talking Powerfully from the Heart'
Click here to find out more about the CASSE-CAACAC Partnership