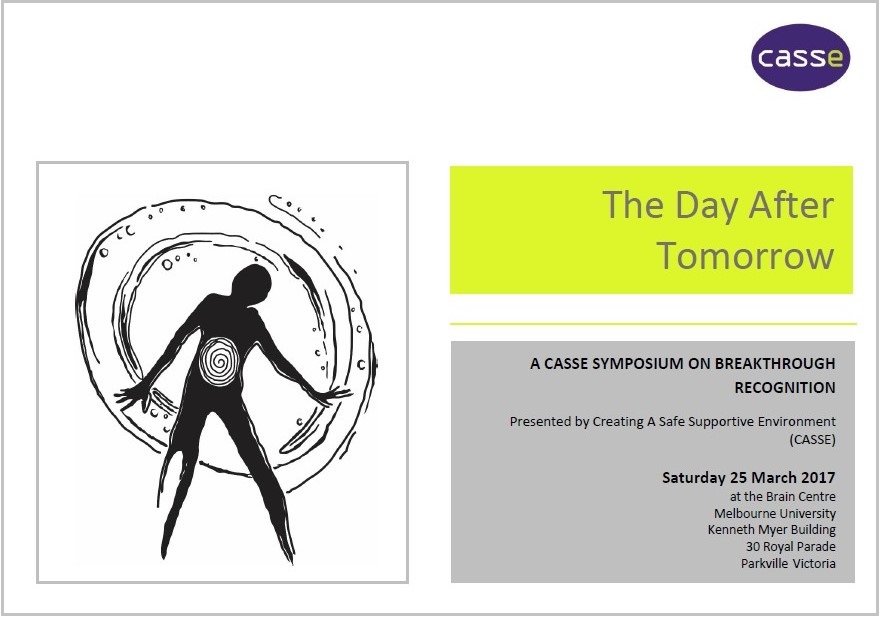 CASSE's submission to the Joint Select Committee on Constitutional Recognition
July 30, 2018
The power of doubt
August 22, 2018
By Pamela Nathan
In the past week I have read the transcripts of two incredibly powerful addresses. 'Truth' was at the heart of both – the denial of truth, and the absolute need to allow the truth to be spoken, shared and openly discussed in order to forge new ways forward.
The first was by The Hon. Fred Chaney, presenting the 2018 Cranlana Governor's Oration on "First Australians and dysfunctional government". (PDF of Fred Chaney's 2018 Cranlana address, downloaded from cranlana.org.au)
The second was by Richard Flanagan, addressing the 2018 Garma Festival: "The world is being undone before us. If we do not reimagine Australia, we will be undone too". (PDF of Richard Flanagan's Garma festival address, as published in The Guardian, 5 August 2018 )
Please take the time to read these compelling transcripts in full. Both are damning and illuminating in equal measure. We have reached the cross roads in Australia. The Uluru Statement from the Heart was the signpost directing us towards a new truthful future for Australia. It is time for us to stand up, unleash our imaginations, radically recognise and create a new future that embraces the past in order to unpast it! 
Both speeches align powerfully with our work at CASSE. As an organisation that uses a psychoanalytic approach, 'truth telling' is at the heart of everything we do. Our approach is about listening, talking, acknowledging and understanding the past in the living presence, while traversing the racial divide. In remembering, experiencing and mourning the journeys that have led to trauma we can learn, grow, transform and reconcile, as individuals and as a community.
Cheney and Flanagan have both given voice to this deep recognition and understanding. I have previously written a Psychoanalytic Insight about 'how stories are healing the racial divide'. I encourage you to read this in conjunction with their work.
In this, I wrote: "We must understand that we may not know the answer. It is OK to be silent. By listening, we may gain a deeper understanding. We may experience the ruptures together and establish a shared emotional experience. We may find a way to move forward… together. Kurunna mwarre. Make my spirit inside me good." (Inspired by artist and elder Kathleen Kemarre Wallace).
Hurting hearts, spirits rising – the epicentre of Central Australia is at the heart of it all. I will include an excerpt from a paper I wrote and presented in Uluru last year at a RANZCP conference:
An Uluru guide book states: When learning about Tjukurpa, Anangu ask visitors to listen. Let the knowledge you hear come through your ears, into your mind and then settle in your heart.
Long ago in the Tjukurrpa the Kuniya, or non-venomous carpet snakes, journeyed until they came to a waterhole. They made their camp there and for a time life was very good.
While the Kuniya people were staying at Uluru, however, life did not remain peaceful. A party of venomous snake men, the Liru, were travelling around in the Pitjantjatjara country, causing a lot of trouble. 
The Liru camped at Kata-tjuta and then decided to approach Uluru to attack the Kuniya. They were led by the great warrior Kulikudgeri and, travelling in a large group, they crossed the sand hills and arrived at the camp of a powerful Kuniya woman named Pulari.
Pulari had separated herself from the rest of her people as she had just given birth to a child. Enraged and desperate, she sprang at the Liru with her child in her arms, spitting out the essence of disease and death, arwita.
 Many of the Liru were killed, but they continued to attack. A young Kuniya warrior challenged Kulikudgeri to a fight to the death and the Liru man, after an arduous battle, fatally wounded the Kuniya man who crawled away over the sandhill.
Kuniya Inkridi, the mother of the slain youth, then rose in a fury and struck Kulikudgeri a great blow on the nose with her digging stick. He died in agony, his blood streaming over the surface of the land, leaving stains on the rock that remain today.
Kuniya Inkridi mourned for her lost son. She covered her body in red ochre and sang and wailed into the night. She spat out arwita, the essence of death and disease, and any man approaching that site today will be stricken.
Meanwhile a huge battle took place between the Liru and the Kuniya at the waterhole on the top of the sandhill. The Liru speared a great many Kuniya and, victorious, left the area and went back to Kata-tjuta. Kuniya Inkridi, the great mother carpet snake, despaired; hearing of the death of her people, she sang the arwita song to kill herself and the remaining Kuniya.
This is one of the Aboriginal stories of Uluru on sacred ground. We stand on the Aboriginal ground of the Pitjantjatjara and the Yakunyatjatjara. Pitjantja means 'coming' and yankunytja means 'going'. There have been many comings and goings on sacred ground.  The landscape holds the memories of time, crimes, grieving mothers, death, despair and ceremony.
The last time I  visited Uluru was with Dick Lechleitner Japanagka in 1981and  together we camped at Mutijulu with a senior man Leo Williams (who died of diabetes) and we travelled on to Docker River. On our return:
An eerie silence had descended on the Rock (Uluru), 28 years ago, broken by a relentless volley of gunfire. Suddenly police stopped our Toyota and urgently asked our business and we told them we were on health business matters in Pitjantjatarra lands. They told us: "Keep moving real smart back to town. A baby has been taken by a dingo. We're shooting all the dingoes".
We could see the dead carcasses littering the road ahead. The black crows circled and swooped over them. Back in the truck, Japanangka shook his head.
"The dingoes never took that baby. No drag marks will be found. Dingoes don't take babies".
"Kwertaty (devil)?" I asked.
Japanangka spat "Nah! The Whiteman took that baby!"
In 2018 I ask what do we know of this world, this war zone, a veritable Holocaust created, unleashed and disavowed by Whitefellahs, when they declared the continent of Australia Terra Nullius? The red Centre of Australia, indeed the heart of Australia, is like a bleeding heart of lacerating pain and the blood of those murdered and marginalised, has hemorrhaged throughout the ancestral lands, seeping and congealing into the very foundations of the nation of Australia, which has been built on an oedipal crime, a colonial crime and a crime against humanity. It has been largely a country of soul murder and not a country of soul making. Fearful rage silenced and silences lament. Only the deafening cicadas mostly make the noise, likened to a psychic noise, making sleep near impossible and wakefulness, an eternal mental indigestion. Aboriginal Dreaming lives on but what might become an Australian dream, remains timelessly suspended, in no-man's land, which psychoanalyst Ogden describes, as a land where there is neither imagination nor reality, neither forgetting nor remembering and neither sleeping or waking up, (and I add, a land where there is no doubt and no hope and no yesterdays or tomorrows and no recognition), which is different to and worse than a nightmare. The opposite of a good dream Ogden says is not a nightmare but no dreams, where a dream cannot be dreamt. It is a land in the words of Bion of indigestible panic, a panic which can only be evacuated or annihilated but cannot be symbolised or held. It is an empty land. Nightmares are frightening and often marked by fear and murderous rage.
The wounded psychic world of the red Centre, the 'hurting heart'- at the point of impact of central, first contact – comprises the emotional epicentre of life and death, cultural oppression and cannibalised collision. Anguishing pain, primordial anxiety, panic, threat, danger and dread become manifest in this psychic world. The immediate trauma and longstanding trauma of colonialism and the racial divide, catalyse disturbances and conflicts, and song line the Dreaming of Australia into a country of breakdown and homelessness. There are however, breakthroughs of hope and vitality that illuminate this bedrock of death. Indeed, this pivotal point of generational impact, can be galvanised at the very centre, providing a critical, crucible from crisis to change.
Kwemenje Tony Tjamiwa, who was a senior traditional owner of Uluru tells us how to find the right way:
"That is a really important sacred thing that you are climbing … You shouldn't climb. It is not the real thing about this place. The real thing is listening to everything. Listening and understanding everything. Why are we going to tell you to go away (and ask you not to climb)? So that you understand this … so that you understand, we are informing you: Don't climb. And maybe that makes you a bit sad. But any way, that is what we have to say. We are obliged to say. And all the tourists will brighten up and say: 'Oh, I see. This is the right way. This is the thing that is right.' This is the proper way: No climbing."
There have been many comings and goings on living sacred ground. Kwemenje Tony Tjamiwa who was a senior traditional owner of Uluru tells us what to hold onto:
"There is strong and powerful Aboriginal Law in this place. There are important songs and stories that we hear from our elders, and we must protect and support this important Law. There are sacred things here and this sacred Law is very important. It was given to us by our grandfathers and grandmothers, our father and mothers, to hold onto in our heads and in our hearts."
 Kwemenje Tony Tjamiwa tells us how to go inside:
 The tourist comes here with the camera taking pictures all over. What has he got? Another photo to take home, keep part of Uluru. He should get another lens – see straight inside. Wouldn't see big rock then. He would see that Kuniya living right inside there as from the beginning. He might throw his camera away then.
 An Aboriginal woman told the architect Greg Burgess who designed the cultural centre at Uluru to "do it like this" and she put two hands together into a clasp saying "let there be a meeting of two worlds, let them be one."
Let the knowledge you hear come through your ears, into your mind and then settle in your heart. Then spirit rising.
Let the truth be heard. End the "torment of the powerless" and recognise the people of a 60,000 year old civilisation, the resilience of their survival and their rich foundations. As Flanagan says: 'Galarrwuy Yunupingu has said: "At Uluru we started a fire, a fire that we hope burns bright for Australia". Let us seize the fire'.  (Aboriginal people have used fire burning to care for country and regeneration for 60,000 years).