Harmony Day: Throwing The String at the Alice Springs Youth Detention Centre
March 22, 2022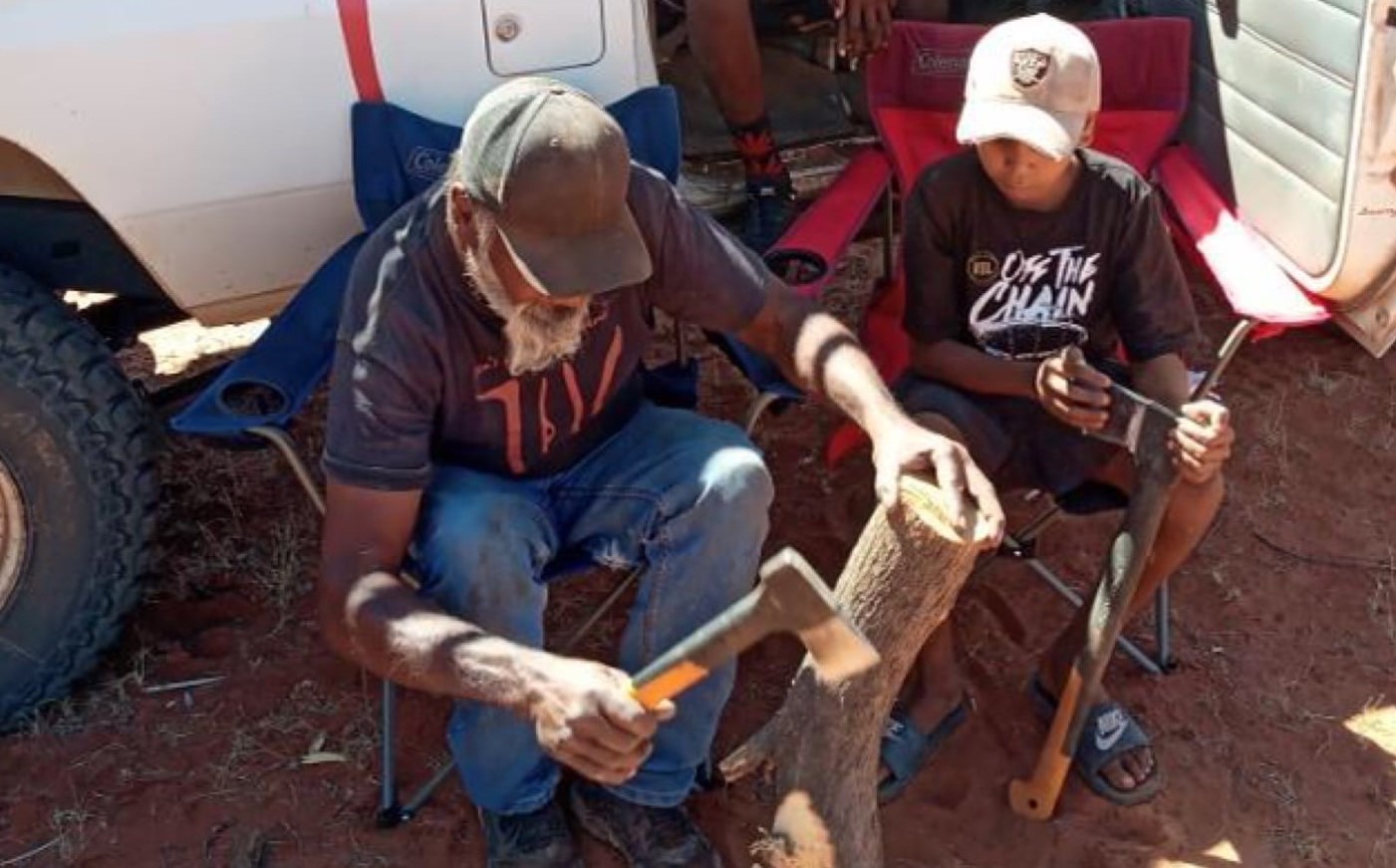 In memory of Mr Kunmanara Hoosan
November 27, 2022
The CASSE team and Board pay a deep tribute to Anne Kantor and mourn and celebrate. Anne, in her modesty, never sought public thanks or limelight for her philanthropic work. But today we will thank her!
Anne Kantor, like me, was a member of the Victorian Association of Psychoanalytic Psychotherapists (VAPP). She invited me twice to join Creating A Safe Supportive Environment (CASSE) – a psychoanalytic not-for-profit organisation – because she was keen to see work on the ground happening with Aboriginal people. Anne, at the time, was Deputy Chair of CASSE and Robert Springall was Chair. We agreed that I could undertake the work in Central Australia upon the invitation of the Central Australian Aboriginal Congress (CAACAC) under the leadership of Stephanie Bell and, later, Donna Ah Chee. I had worked with many of the current Aboriginal Board members in the early 1980's, so the door opened. Thus, began a rollercoaster ride and an incredible journey in central Australia with Anne for over seven years, developing the Aboriginal Australian Relations Program (AARP). Anne auspiced this Program with cheer, inordinate patience, imagination, curiosity, facing uncertainties and taking risks.
For example, a few years later, Anne made the inaugural four-day trip to Walungurru-Kintore (one of many to come) near the Western Australian border. It was no mean feat, nor for Anne, given her age, the floods, the heat, and the long distances travelled and heralded her commitment and interest in the work. On the second morning of this trip, having slept in rudimentary accommodation with the hot sun already up and bush breakfast cooking, Anne danced in the kitchen happily singing "From big things, little things grow" alluding to the potential of CASSE. That morning, when we reached Warumpi-Papunya, Anne sat on the ground talking with one of the Elders about his toolmaking. As they spoke about the tradition of toolmaking, Anne saw this man wake up and become enlivened as he demonstrated carvings and the function of the tools. He was working with rusty old tools – all we had at the time. Anne saw his delight and, from thereon, wanted to support the Elders with new tools. Therein, CASSE began to facilitate the Men's Tjillira Movement (MTM), trusting in the Aboriginal way of dreaming and stories on country.
For the first few years, CASSE was immersed in the landscape of trauma, and it took time to find our place, two-way, alongside Aboriginal people. Anne stayed, in Bion's words, "in the eye of the storm," never once demanding outcomes, certainty, or form. Then, finally, a project, determined by Aboriginal people, emerged in a five-year partnership with the Central Australian Aboriginal Congress (CAACAC) in Alice Springs. It generated the research and the development of a best practice Aboriginal Men's Shed for Central Australia. The project, Kurrunna Mwarre – Making my spirit good – was led by Kenneth Lechleitner Pagnarte, the son of the Elder, kwemenje Lechleitner Japanangka, whom I worked with in the 80's and supported by Ingkintja and Jonny Liddle.
Anne was involved in program development, engaging in, supporting, and reflecting with unfailing enthusiasm and unflinching faith. Anne had a remarkable capacity for listening, reverie and a commitment to self-determination, which has been critical to the success of the work. This capacity has allowed CASSE to uphold hope in the face of despair and lament and find its way, two-way, with Aboriginal people. Anne attended most of the meetings and discussions. Sometimes it looked like she was napping as the meetings wore on, but suddenly, Anne would lift her head and startle all with the most incisive of comments, usually when there was confusion or differences.
CASSE has been able to grow the foundations provided by the DARA Foundation, led by a new Chair – Chris Croker – a changing Board and a new team on the ground, expanding partners with remote communities, Aboriginal organisations, and government. CASSE is now an Aboriginal organisation. The Shields For Living Tools For Life (SFLTFL) project is a current one, built on the flagstaff MTM, working alongside at-risk youth, providing an alternative to detention with cultural healing camps vitalising cultural and generational connections on country. Conferences have been held, publications written and training courses delivered. People working with and for CASSE have been empowered along the way.
Aboriginal people "fondly remember" her as "the great, lovely, beautiful lady with a big heart". They have been proud to work alongside her, saying "her legacy will not be forgotten". Aboriginal leaders, including Stephanie Bell, John Liddle, Donna Ah Chee, and Ken Lechleitner Pagnarte, have written moving tributes, sending their condolences to CASSE and her family. The news has spread, and Aboriginal people are ringing to know about the sorry business. Other psychoanalytic supporters of CASSE in various capacities have expressed their condolences and paid homage, including Eve Steele (past supervisor with vale Herbert Hahn), Dr Timothy Keogh (advisor), Craig San Roque (colleague) and Lord John Alderdice as Ambassador and more.
It has been a great honour for me to be able to befriend and work with Anne. She will be remembered by many for her welcoming warmth, pioneering endeavours, and courage taking up the perilous and the unwanted with patient presencing, thereby rendering respect and recognition, giving life and hope to deathly matters and a voice to those on country creating and preserving their stories.
Anne leaves a profound legacy of resilience and healing on the ancestral lands informed by the psychoanalytic perspective.
The Board, team at CASSE, and their partners salute and celebrate the achievements of Anne Kantor.
Farewell Anne
To a great lady!
Forever in our hearts.
Pamela Nathan- 20th September 2022
Board: Chris Croker-Chair, Raymond Walters, Robert Hoosan, Martin Juggadai, Pamela Nathan. Current team members who worked with Anne for the long haul – Gurli Hughes and Anna Kingston