Facing up to their actions, their regrets and themselves
February 25, 2016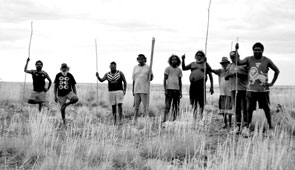 It's time to recognise how to stop the violence
March 3, 2016
By Pamela Nathan
An 11 year old has been charged with murder. He is Aboriginal. He is said to be the youngest boy in Australia to have allegedly murdered. A young man is dead. He is Aboriginal. Thirty or more people were in a mass brawl at 3 am in the morning. Three others have been charged with murder.
The young boy reportedly has been "inconsolable", drenched in pain and tears. He has been placed in a high-security unit for protection. Indeed it has been alleged he committed a murderous crime.
The fact that an 11 year old Aboriginal boy – the youngest yet in Australia – has been charged with murder has repeatedly shocked my mind.
Many murders are committed out of fear or encapsulated trauma.
This 11 year old boy has a story. What is his story?
What happened to this boy?
We know the boy's brother died after being hit by a car when he was five, his family was evicted when he was seven, and he grew up under the threat of domestic violence from his father. His family was effectively homeless, moving between relatives' houses, and the boy acted out, running with boys much older than his 11 years.
Is this enough to allegedly cause murderousness? We might say many boys have sustained tragedy, domestic violence, homelessness and neglect.
But then what do we make of the fact that Aboriginal children are 53 times more likely to be in gaol than non-indigenous children? The Amnesty International report, released last year notes that Aboriginal and Torres Strait Islander children made up 87% of all detainees aged 10 to 13 in WA in 2013-14.
So now there is then more to the 11 year old boy's story. He has lived a life of crisis. He is a symptom of a much larger systemic crisis of suffering; suffering converted into crimogenic and murderous behaviour.
A friend who has known him for a long time referred to him as the "gorgeous little boy" and found him "very respectful". They suggested the boy's family believed he would be proven to be "an innocent bystander", adding "one of the things this little fella was good at was tagging along and making himself fit in". (The Guardian, Wednesday 17 February and Australian Associated Press). When his father was imprisoned he lived with his grandmother. He was not enrolled in school at the time. He had been "in trouble with authorities", suggesting he was not always gorgeous and was no angel.
As a forensic psychoanalytic psychotherapist, one might speculate this young boy had been a bystander to family violence, hit suddenly by trauma when he lost his brother and that he tried to fit into his family and his world, let alone the world of Aboriginal Australia. He is small in stature. Perhaps he felt small in his world of homelessness and violence and needed to feel strong in the only way he knew how; by identifying with the aggressor or trying to fit in with older peers.
But how is it that he was not at school? How is it that he did not have a roof over his head? How is it that an 11 year old might kill?
A dead young Aboriginal man and an 11 year old Aboriginal boy charged with murder. Surely this killing condemns Australians and confirms the nightmare of the Aboriginal Dream. It is an appalling indictment on Australian Aboriginal Relations. Let us not condemn this young boy. Let us hear his story and the story of the "gentle giant" Paddy Slater who tragically died. Let us hope the young boy gets to know his story, the story that has led him to be charged with murder and that he knows we have listened. Perhaps then, he can fit in and find a home inside himself. Perhaps then, lives can be saved.
SEE RELATED MEDIA COVERAGE:
https://www.google.com/url?q=http://www.theaustralian.com.au/news/nation/litany-of-strife-behind-11yearolds-murder-charge/news-story/709e541d1f43298acc3a464ecbaa4a6e&sa=U&ved=0ahUKEwijgPvriZ7LAhWMFZQKHY5CCJIQFggFMAA&client=internal-uds-cse&usg=AFQjCNHVP-6LXZVn6OkYDRsySSUdYLsepw
https://www.google.com/url?q=http://www.theaustralian.com.au/news/nation/litany-of-strife-behind-11yearolds-murder-charge/news-story/709e541d1f43298acc3a464ecbaa4a6e&sa=U&ved=0ahUKEwijgPvriZ7LAhWMFZQKHY5CCJIQFggFMAA&client=internal-uds-cse&usg=AFQjCNHVP-6LXZVn6OkYDRsySSUdYLsepw