The legacy of the Pintubi Nine
August 17, 2015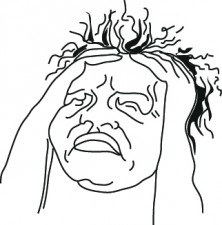 'Changing Minds, Saving Lives' – Psychoanalytic Insights: FEAR
August 31, 2015
By Pamela Nathan
As the Prime Minister immerses himself in his week long visit to the remote community of Murray Island in the Torres Strait, it is worth applauding his recent about face regarding the process of indigenous consultation on constitutional recognition and reform.
Acknowledging and listening to Indigenous voices is of critical importance for the process of constitutional reform.
Aboriginal people had no say in the drafting of the original Australian constitution. Australia had been declared "terra nullius". Aboriginal people did not exist. They were invisible.
Constitutional reform is tantamount to removing the cloak of invisibility, but only if done respectfully. A mutually agreed consultation process is about acknowledging Indigenous existence, and providing a platform for voicing concerns, sharing stories, understanding trauma and suffering and, potentially, reconciling and healing.
Rex Granite, an Aboriginal leader in Alice Springs, speaking literally and metaphorically, said: "You do not speak my language". For many Aboriginal people, English is not their first language, and some do not speak any English. To understand the legal technicalities which concern them requires a tailored process of consultation and negotiation.
But constitutional reform is also a matter of symbolic change. One-sided recognition is no recognition at all for all Australians. Removing the cloak of invisibility is likely to expose uncomfortable truths. Exposing these truths is essential for understanding and meaningful conversations. Conversations that involve two way communication – talking AND listening.
Speaking to reporters before a meeting designed to heal the rift with Aboriginal leaders regarding the consultation process, Mr Abbott said: "What we want to do is to have a unified process which certainly will involve Indigenous people talking, it will involve the wider community talking. And what I want to see is not some kind of them-and-us process but a we-the-people process."
He also said that within a "we-the-people process", it was important "for Indigenous people to have a chance to talk this through as thoroughly as possible".
Having the opportunity to talk matters. But it means nothing if the words spoken are not heard.
As the PM for Indigenous Affairs traverses a week meeting with Aboriginal people, on their country, I hope he demonstrates a genuine willingness and capacity to let people talk, but also to listen, to acknowledge and to recognise our first people.
Related articles:
http://www.theage.com.au/federal-politics/political-news/tony-abbott-moves-to-heal-rift-on-indigenous-recognition-20150818-gj21fo
http://www.theage.com.au/federal-politics/political-news/indigenous-recognition-tony-abbott-aboutface-aims-to-rebuild-trust-on-constitution-20150820-gj3ldm
http://www.theage.com.au/comment/time-running-out-for-the-prime-minister-for-indigenous-affairs-20150821-gj4kr6.html
http://www.abc.net.au/news/2015-08-24/tony-abbott-arrives-in-torres-strait/6719514