The Day After Tomorrow
A CASSE Symposium on Breakthrough Recognition
Held on Saturday 25 March 2017
The Melbourne Brain Centre, Kenneth Myer Building, The University of Melbourne
30 Royal Parade , Parkville, Victoria
*** CASSE  Breakthrough Recognition Symposium Booklet now available ***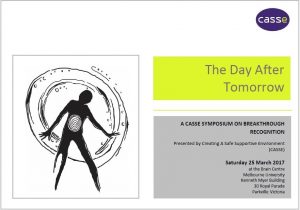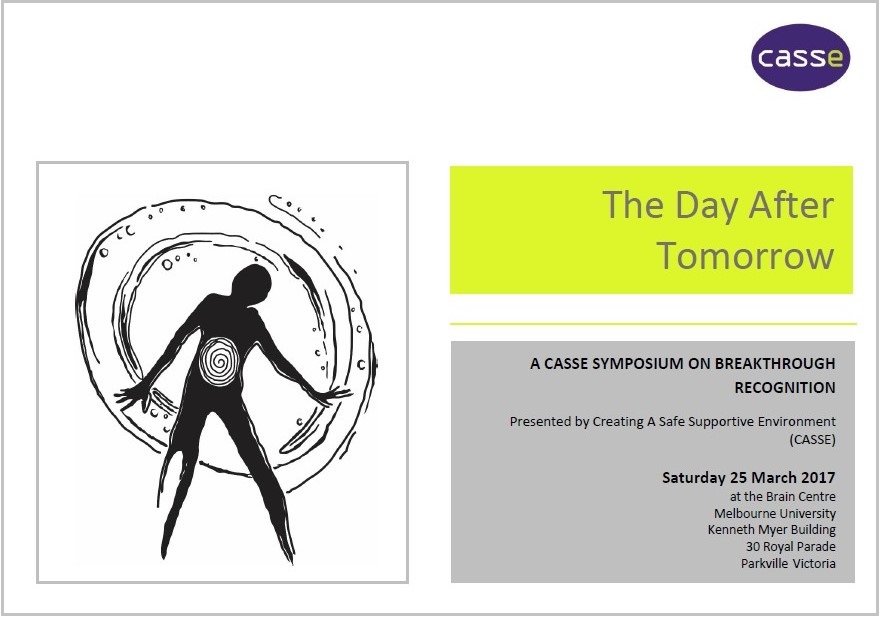 CASSE Breakthrough Recognition Symposium Booklet Part 1 of 3
CASSE Breakthrough Recognition Symposium Booklet Part 2 of 3
CASSE Breakthrough Recognition Symposium Booklet Part 3 of 3
What does a nation that sees, hears and knows – that recognises – all of its peoples look like?
Taking the day after recognition as a possible starting or end point, this symposium journeyed through the unrecognised trails of trauma to shine a light on dreaming breakthroughs to achieve recognition, change minds and save lives.
The invisible heart of Australia is lacerated by the racial divide, which blankets silent suffering and bleeding trauma trails.  But remembrance, revival and resilience are reclaiming the ancestral lands, generating tomorrows.
CASSE's symposium provided a forum for important thinkers from Central Australia to share their knowledge and work with some of Australia's key Indigenous, political and cultural leaders.
Attendees included:
Aboriginal people and representatives from Aboriginal organisations
Psychoanalytic psychotherapists, psychoanalysts, psychologists, social workers, psychiatrists, counsellors and mental health practitioners
Thought leaders, practitioners and advocates from the legal, justice, political and welfare system
Service providers working to break cycles of trauma and violence
Australians seeking to develop mutual understanding and recognition for a reconciled Australia.
Key take aways fromthis event included:
Insights from Aboriginal leaders
Analysis of yesterday's policy failures
Greater understandings of why Aboriginal people are in crisis – from both sides of the racial divide
Clear insights into practical, psychological approaches that are making a real difference to the lives of Aboriginal people
Clarity around practical recognition – what it looks like and how to get there
Dreamings of tomorrow
PROGRAM
8.30   Registration
9.00   Welcome to Country
9.10   Introduction to 'The Day After Tomorrow – Breakthrough Recognition'
9.20   Lord John Alderdice (video presentation)
9.45   Kieran Finnane
10.20 Craig San Roque
10.50 Morning Tea
11.15  Pamela Nathan
11.45 Ken Lechleitner Pangarta
12.05 Men's Tjilirra Movement – Martin Jugadai, Jamie Millier Tjupurrula, Nathan Brown
12.30 Lunch
1.20   Introductions
1.30   The Hon Mark Dreyfus QC, MP
2.30   Dr Timothy Keogh       
3.00    Afternoon Tea
3.25   Alexis Wright (video presentation)
4.00  Panel Discussion: The Day After Tomorrow